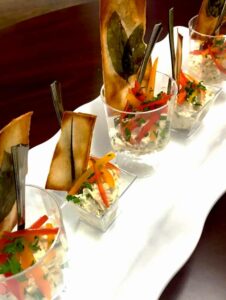 Have you seen our Wedding Catering Collections? Seriously, I am asking you. Our Ala Carte Options alone are amazing. Take a moment and click over to our Catering Collections page.
https://chefscatering.com/wedding-catering/wedding-catering-collection/
Read through the countless of options our chef has in store for you. Be the bride who brings true elegance and flavor to the celebration.
Only your imagination sets the limits for what you can do with your wedding. Make sure that every moment counts!
I am in touch with new brides daily and I would like to share with you that I encourage variety. Often, there are limits set by budget or family members but I want your day to be specifically for you.
I don't put together the menus for my couples in any sort of formula or system. I don't copy menus from past receptions. I work with my couples to create a menu of amazing flavors that they will look forward to as a part of the day that has been uniquely set aside just for them. Even with Chef's Catering's Wedding Collections, there are choices.
Create your wedding with a "Thinking Outside The Box" mentality. Think –
"What Can I CREATE?"
Let me encourage you to arrange a Tasting @ $25.00 per person in our Tasting Suite. After all, it's important that you fall in love with the food that will be served on your day and I am confident that you will. The cost for the tasting will be deducted from your final bill should you choose Chef's Catering for your event. I would love to meet you. Click on the link below.
https://chefscatering.com/contact-chefs-catering/
or email me directly at l.oglesby@www.chefscatering.com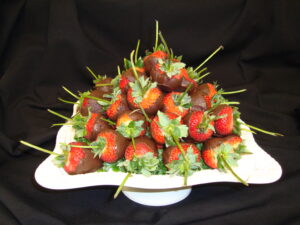 If you are a bride, you want your dress to be uniquely you, but not only the dress. I'm telling you that I want your whole day to be uniquely YOU. As I work with you, I'm invested in what you want to have happen on your day.
Here's an email I received:
Lea –
Now that we've had a little bit of time to settle and wind down from the big day, I wanted to send you a quick thank you! Words cannot describe how thankful we were for you and for all that you did for us! You made everything so simple and clear and did so with such a gracious heart. You were ALWAYS so quick to respond and make sure we had everything that we needed. It honestly seems like you've been doing this for years. You're a pro!
I will HIGHLY recommend Chef's Catering to everyone around. From the very start, you guys have been wonderful! Your staff was incredible the night of the event. They took care of Matt and I and came to the rescue whenever anything was needed. Each and every individual employee at Chef's Catering is top notch!
Meghann H.
Share your heart. Share your expectations. Your life is only limited by your imagination. All things are possible. Let's make "YOUR" dreams come true.