Whether it's…
We deliver the best food (from gourmet business lunch catering services to breakfast catering to Southern BBQ to home-cooked buffets), at reasonable prices, with catering styles that fit your needs and budget. Chef's Catering caters to your needs!
---
Catering Near Me?
You may ask, "Is Chef's Catering delivery near me?" Good question. Chef's Catering delivery area is within 50 miles of Matthews, NC (Charlotte, North Carolina). Our wedding and corporate food catering services include; Charlotte, NC, Mooresville, NC, Monroe, NC, Pineville, NC, Cornelius, NC, Weddington, NC, Rock Hill, SC, Mint Hill, NC, Fort Mill, SC, Concord, NC, Huntersville, NC, Lancaster SC the Ballantyne area; Waxhaw, NC, Monroe, NC and surrounding areas. See our delivery area map for details. This area includes delivering office lunch catering, corporate boxed lunch catering to your office, wedding catering services, corporate party catering, and private party catering. So, from now on, when you ask "Is there lunch catering near me?" the answer is YES!
Making The Best Impression with Dependable & Creative Catering
Dependability is probably one of the first expectations you have of a caterer. Beyond that, on-time delivery, professional staff, fresh ingredients, and great food are the basis of the Chef's Catering concept. Since 1980, we have been delivering good food and great catering to Charlotte, NC, and surrounding areas. As we've grown, one thing has never changed – our dependable reputation. It was built over years of excellent customer service and delicious food for special events of all sizes, comprising a client base of Fortune 500 companies to charities.
Commitment and insistence on quality have kept Chef's Catering in the catering business in the Charlotte, NC area for over 40 years. Repeat clients and referrals are the greatest compliments anyone can give a catering company. We strive to form lasting relationships and always exceed expectations, one party at a time. This makes us one of the Carolinas' best catering companies.
---
Not Just Caterers… We Are Catering
CONSULTANTS
Chef's Catering's goal is to make your life a little easier! We streamlined the ordering process
Check out our menus,
Simply call us at 704-321-2121
Email us at info@chefscatering.com, or
Fax us at 704-321-2122
Saturday events have a food & beverage minimum of $500
Sunday events have a food & beverage minimum of $750
Our professional staff is also available to offer suggestions and create a personalized menu that is sure to make the best impression on your guests. We prefer advance notice for orders, but understand that emergencies happen. Please contact us to inquire about any order, even if it is the morning of your event. Years of catering experience and the right staff allow us to handle last-minute orders. Our different catering styles (formal, standard, and casual) are fitting for any type of event!
We are more than just another caterer that delivers food, Chef's Catering is a full-service caterer. Our event planners are here to assist in planning and handling all aspects of your catering event. Chef's Catering can provide…
Centerpieces & Any Other Decor
Tents
Ice Sculptures
Valet Parking
Floral Design
Entertainment
AND MUCH MORE
---
Family-Owned & Operated
Chef's Catering is a family-owned business who wants to feed you like family! Chef's Catering opened its doors in 1980. That is over 40 years of serving delicious food and catering in Matthews NC and to Charlotte and all of its surrounding areas.
Our Core Values stem from fresh quality food, full of flavor every time.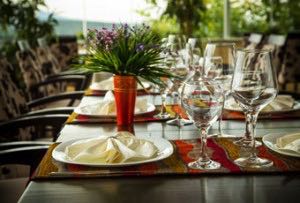 ---
Catering in Matthews, NC & all over the Charlotte, NC area
Are we competitive? Yes! Striving to be the best in the industry, we want you to call us each and every time you need a caterer. We believe in high customer service standards. In a city that truly is full of hustle and bustle, we believe in relieving some of your stress by having us do the heavy lifting. We don't just come in and drop off, we will set it up for you, and when the meeting is over, we will carry it all away.
Our innovative recipes, which have been time-tested, are prepared with high quality, fresh ingredients to ensure excellent flavor. Chef's Catering is also constantly updating the menu to keep up with the current trends in the food industry.
Why should you buy from Chef's Catering? Simply put, we deliver more flavor with more style and deliver more value to you! Chef's Catering is passionate about food!

Chef's Catering provides the best in affordable catering for corporate events parties, meetings, breakfasts, box-lunches, hot lunches, or any business gathering. This Charlotte, NC-area based catering company has been in business for decades providing the finest and most elegant catering in wedding, rehearsal dinners, showers, and parties for every budget and occasion.
Also Catering To The Following Areas:
Please call us for your next meeting, celebration, or wedding.
---
Chef's Catering is certain to exceed your expectations!
Chef's Catering knows that planning events can sometimes seem overwhelming, so please contact us with any questions you may have. With many years of event planning experience, we can help you save headaches, time, money and ensure an all-around 5 Star Food Catering Service! Please call us to deliver and serve for your next meeting, celebration, or wedding.