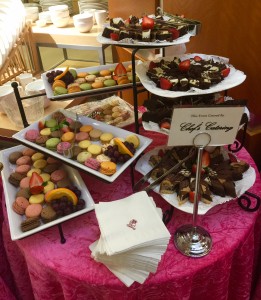 In Rock Hill, SC, we provide corporate catering, wedding catering, event catering, and many other catering services with our professional team of experienced caterers. Including lunch, dinner, brunch, breakfast, BBQ catering, and more, consider choosing Chef's Catering for a great meal and unforgettable experience at your next event.
Wedding Catering & Rehearsal Catering for Any Rock Hill, SC Venue!
Whether you're in town at the Crystal Ballroom, White Home, or Blu Place or you're out on a wooded estate – we can cater your wedding anywhere near Rock Hill, SC. Chef's Catering is proud to offer total party catering from breakfast to Hors D'oeuvres, buffets, and beyond. Completely customized for your unique event – we are open to all requests and strive for nothing less than the best possible wedding catering.
Corporate Event Catering in Rock Hill, SC
Serving Rock Hill, SC and all of York County, Chef's Catering offers professional corporate catering and corporate event catering services. No matter the size of your event or company, we will work with you to create the best possible meal, from the menu to the logistics of serving guests and making sure everything goes smoothly along the way.
Other Party Catering & Event Catering in Rock Hill, SC
Available for birthday parties, wakes, graduations, family reunions, and all other events in Rock Hill, SC, Chef's Catering has a wide range of catering services for every kind of event. For each one of our clients, our team always takes every extra step necessary to guarantee a high-quality meal and experience.
Rock Hill, SC Meal Catering For:
Breakfast Catering
Brunch Catering
Lunch Catering
Dinner Catering
BBQ Catering
Carving Stations
Hors D'oeuvres
Buffet Catering
Box Lunches & MUCH MORE!
Please contact us today for great catering services at your next Rock Hill, SC event!