When it comes to corporate events, they deserve the utmost care and attention to detail. Whether you're hosting a grand conference or a more intimate team gathering, every aspect of your event should be carefully executed. Our catering services are here to ensure that the food and drinks at your corporate function are nothing short of exceptional. With our extensive experience in the catering world, we know just what it takes to impress your guests and leave a lasting impression.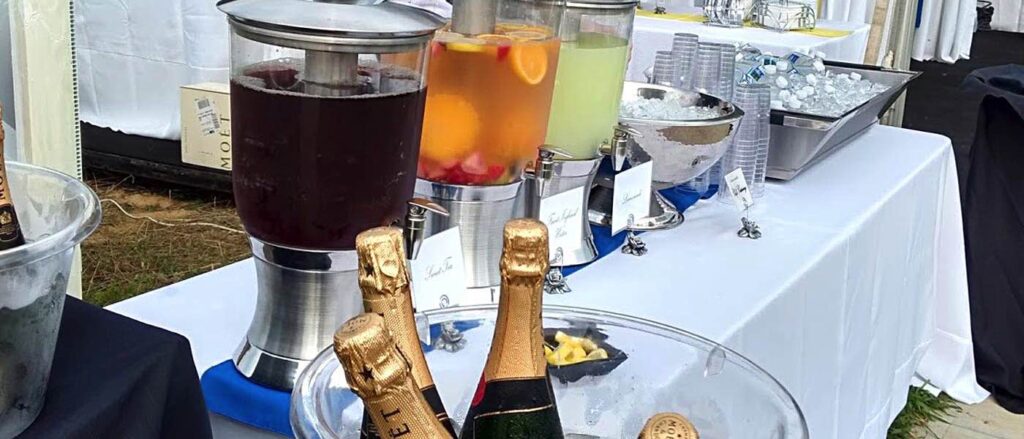 From Food and Drinks to Servers and Bartenders – We Do It All!
Planning an event can be a daunting task but it doesn't have to be. We offer a range of services to make your event hassle-free. Whether you just want delicious food and drinks or need a full-service option with servers and bartenders, we will make sure it all goes seamlessly. Our team can provide beer, wine and mixers for your event. While we take care of handling liquor, it's important to note we don't supply it.
Benefits of Hiring a Catering Company for Corporate Events
A professional caterer brings more to the table than just good food. Our team of experienced chefs can craft a menu tailored to your preferences or create unique dishes guaranteed to wow your guests. With a plethora of food options, we can easily accommodate various dietary restrictions. More than just crafting the perfect menu, we'll work within your budget, ensuring that you get the best value for your money. Plus, with our professional touch, you can be assured your event will run flawlessly; leaving you free to mingle, network and enjoy the festivities.
Types of Corporate Events and Corporate Parties We Service
The corporate world hosts a variety of events, each with its own unique requirements. Here are some of the events we've catered for:
Conferences
Meetings
Cocktail Parties
Company Picnics
Product Launches
Grand Openings
Employee Onboarding
Awards Ceremonies
Employee Appreciation Events
Networking Events
Open Houses
Media Events
Press Conferences
Retirement Parties
Seminars
Workshops
Trade Shows
Business Dinners
Holiday Parties
Product Demonstrations
Board Meetings
Executive Retreats
Client Lunches
Vendor Appreciation Events
Kickoff Events
Whatever your event type, we offer various catering options; from appetizers to mains and delightful desserts. Need tableware, linens or other party essentials? We've got you covered. If your venue requires, we can even set up the food, drinks and provide staff to serve.
We Offer Corporate Event Catering Services In the Following Areas:
For over 40 years, our commitment and insistence on quality have kept us serving the Charlotte, NC area with pride. With each event, we aim to exceed expectations, forging lasting relationships with our clientele. After all, there's a reason we've been in business for decades – our dedication to providing exceptional service. We've worked with businesses of all sizes, from Fortune 500 companies to small mom and pop shops, and everything in between.
If you would like to learn more about the corporate vent catering services we offer in Charlotte, NC, contact us.