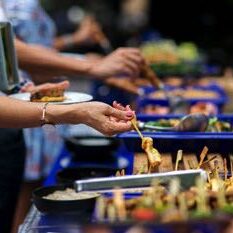 We provide carving stations, buffet catering, BBQ catering, hors d'oeuvres, and more for Fort Mill, SC and Fort Mill, SC events. We proudly serve local weddings, rehearsals, and other events to make these get-togethers that much more memorable.
Wedding Catering & Rehearsal Catering for Any Fort Mill Venue
Your Fort Mill, SC wedding or wedding rehearsal will be incomplete without delicious food prepared by our wedding catering professionals. Treat your guests to a catered meal and they will get that much more value out of this shared experience.
Corporate Event Catering in Fort Mill, SC
Company event catering provided by our corporate catering team will bring your hardworking employees closer together. Feast on an elaborate meal prepared by our brunch catering, lunch catering, and dinner catering specialists and you will agree these tasty delights serves as an important common thread that enhances your team's cohesiveness. The food prepared by our corporate event catering crew serves as common ground for everyone who contributes their time and effort to the collective interest of your Fort Mill, SC business.
Other Party Catering & Event Catering Services in Fort Mill, SC
Catering services including breakfast catering in Fort Mill, SC helps take local events to the next level. If you are planning on holding any sort of event in the greater Fort Mill, SC area, don't attempt to perform DIY food prep and cooking. Instead, narrow your focus on the purpose of the event. Let our food prep specialists handle the challenge of catering and everyone will agree the delicious food makes the get-together that much more special.
FORT MILL MEAL CATERING FOR:
Breakfast Catering
Brunch Catering
Lunch Catering
Dinner Catering
BBQ Catering
Carving Stations
Hors D'oeuvres
Buffet Catering Box Lunches & MUCH MORE!
Contact us today to schedule us for your next event!