Southern Fair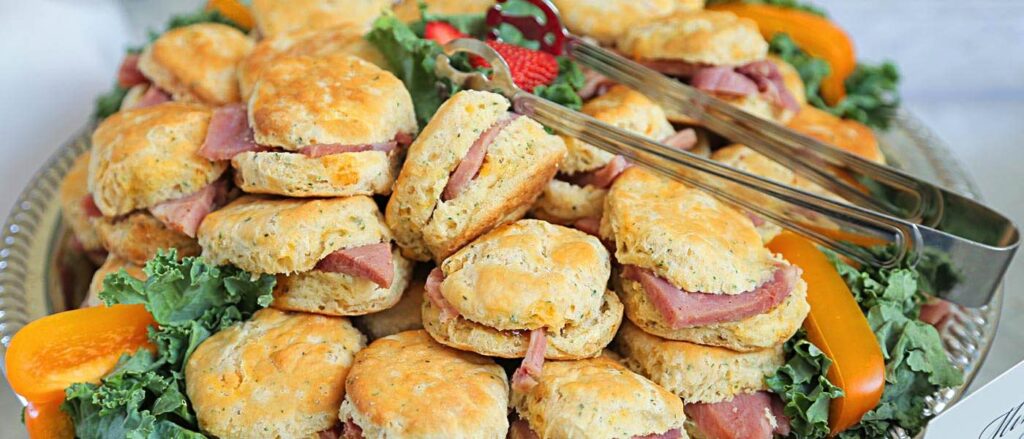 Petit cheddar herb biscuits with apricot Dijon sauce and your choice of shaved turkey or shaved ham.
50 pieces 87.50 / 75 pieces 131.50
Party Tea Sandwiches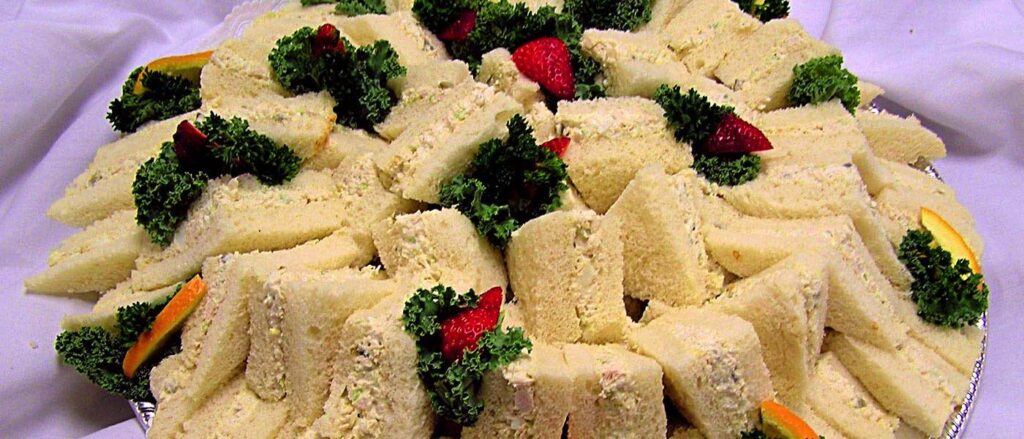 Made on white bread with chicken salad or vegetable spread.
50 pieces 42.50 / 75 pieces 67.50
Hye Roller Pinwheel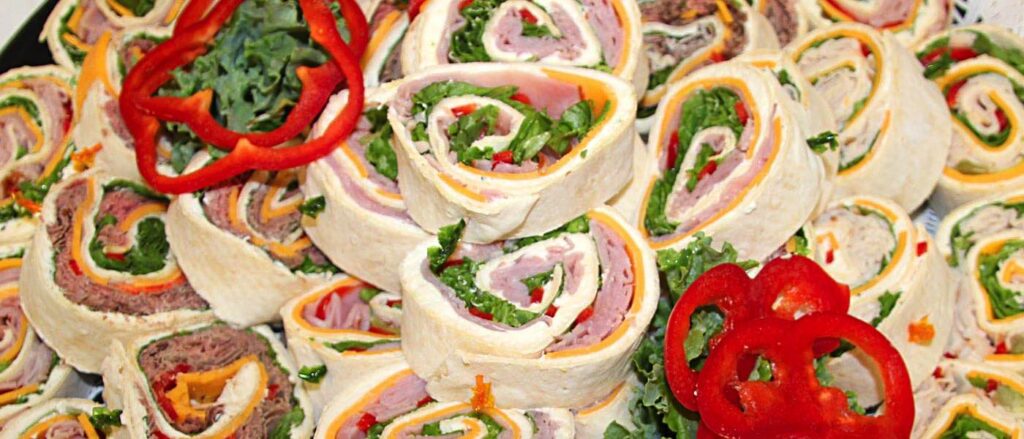 An assortment of meats and vegetables on homemade dough with cream cheese.
21.00 a dozen (minimum of 2 dozen.)
Mini Croissants and Sliders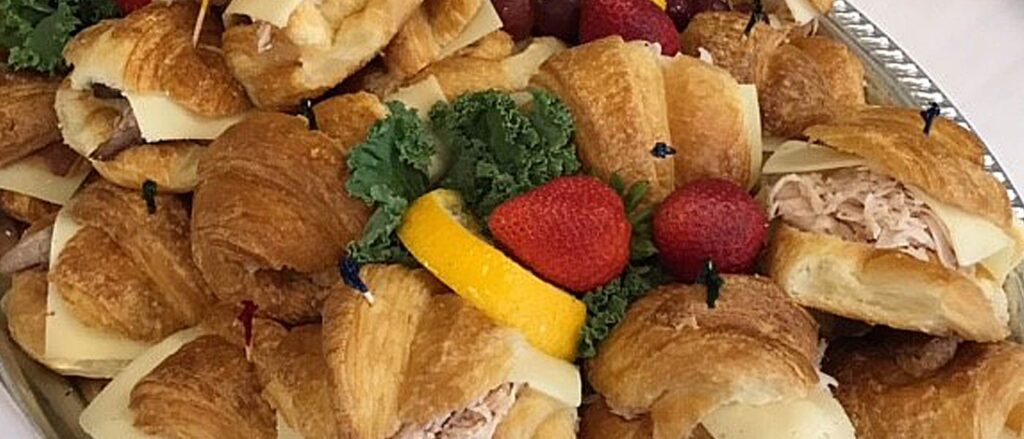 Filled with deli ham, our own oven baked roast beef or turkey breast.
25 pieces 65.00 / 50pieces 130.00
Herb Chicken and Crisp Shooters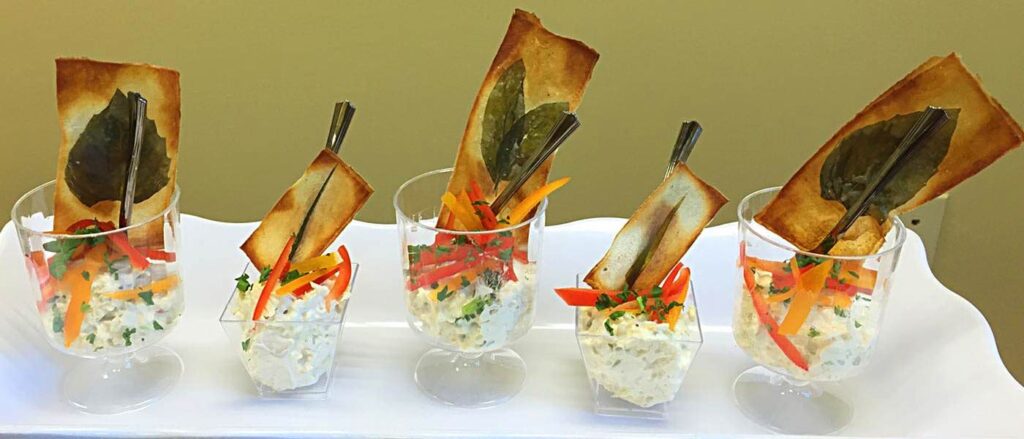 House made chicken salad, bell pepper with a gourmet cracker.
3.00 (minimum of 25 people)
Deviled Eggs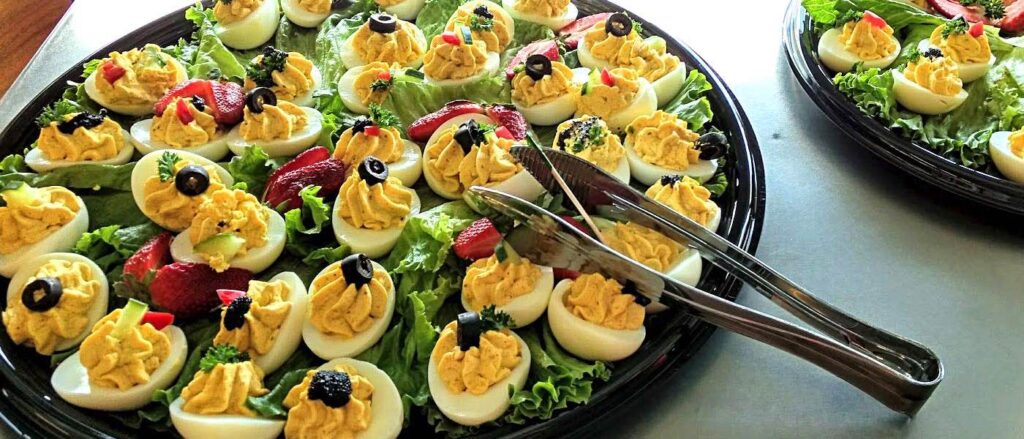 Decorated with olives, parsley and caviar.
21.00 a dozen (minimum 2 dozen)
Baked Brie en Croute
Creamy French brie cheese baked in crisp puff pastry with apricot jam.
Small (15) 67.50 / Regular (30) 135.00
Tricolored Phyllo Crisps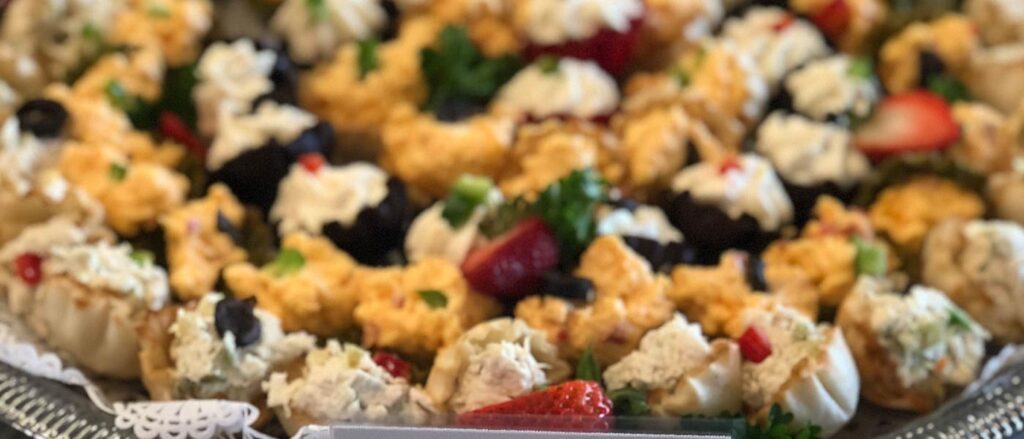 Filled with our chicken salad, vegetable cream cheese spread and pimento cheese.
50 pieces 55.00 / 75 pieces 82.50
Vegetable Crudité Bouquet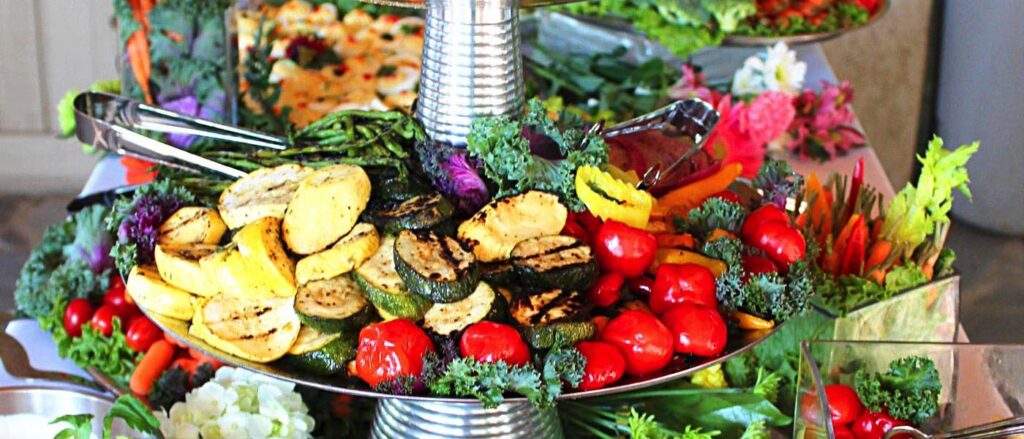 Assorted seasonal vegetables and grilled vegetable around a ranch dip.
Small (15) 52.50 / Medium (25) 87.50
Tex Mex Dip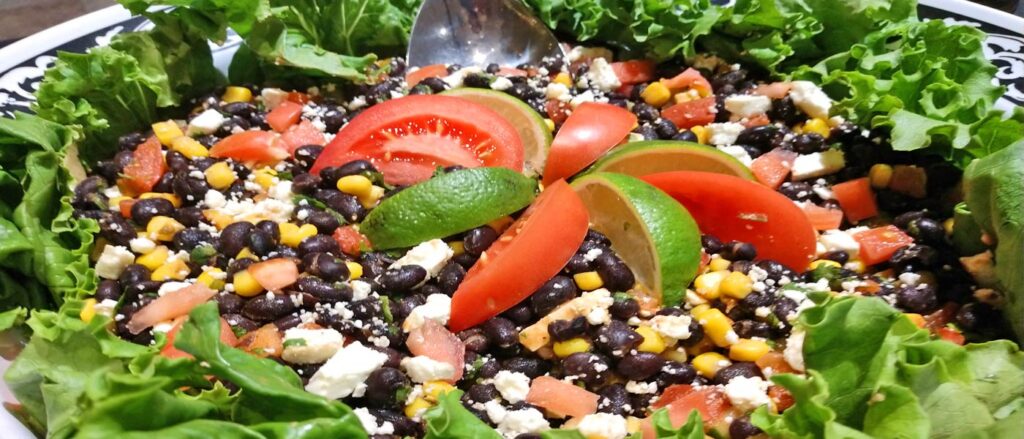 Black bean and vegetable stacked salad with crumbled queso cheese and chili lime vinaigrette served with tortilla chips.
4.00 (minimum of 25 people)
Marinated Beef Tenderloin Tray*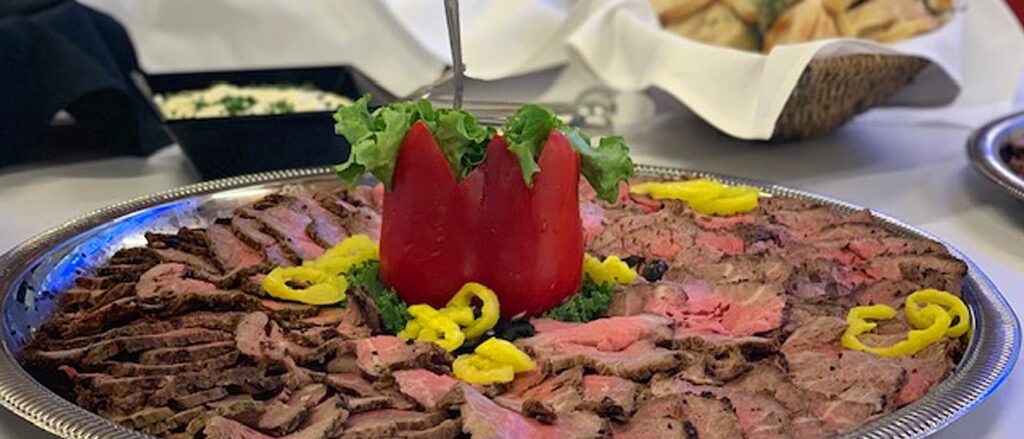 Roasted, then thinly sliced and arranged on a tray. Served with French bread slices and mini croissants with horseradish sauce, remoulade sauce and gourmet mustard.
11.00 – (minimum of 15 people)
Filet of Beef Canapé*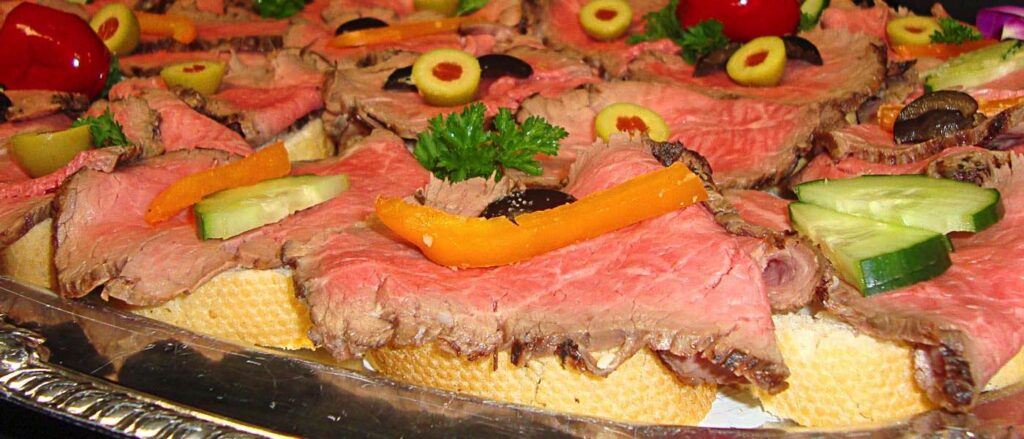 Tender filet of beef on baguette slices with remoulade sauce on the side.
25 pieces 81.50 / 50 pieces 162.50
Smoked Salmon Canapé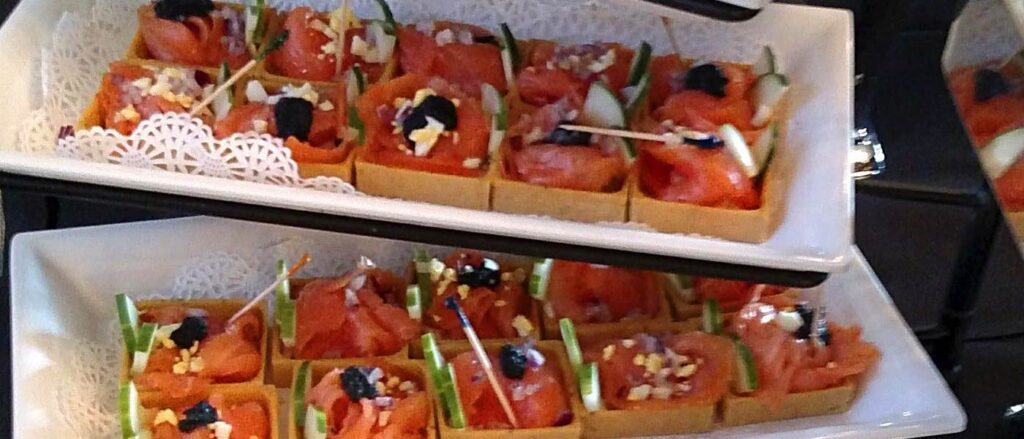 Premium Atlantic smoked salmon, with horseradish cream, miniature cucumber slices, capers, caviar, and shaved egg served in a savory pastry bite.
12 pieces 42.00 / 24 pieces 84.00 / 48 pieces 168.00
Elegant Canapés Trio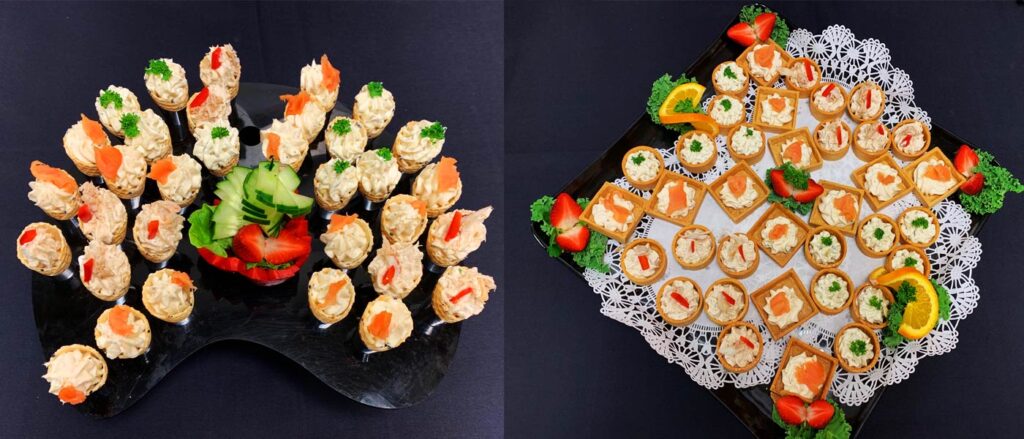 Savory handmade tart shells and miniature waffle cones filled with smoked salmon, lump crab and tangy artichoke-herb cheese.
25 pieces 75.00 / 50 pieces 150.00
Mediterranean Chips and Dip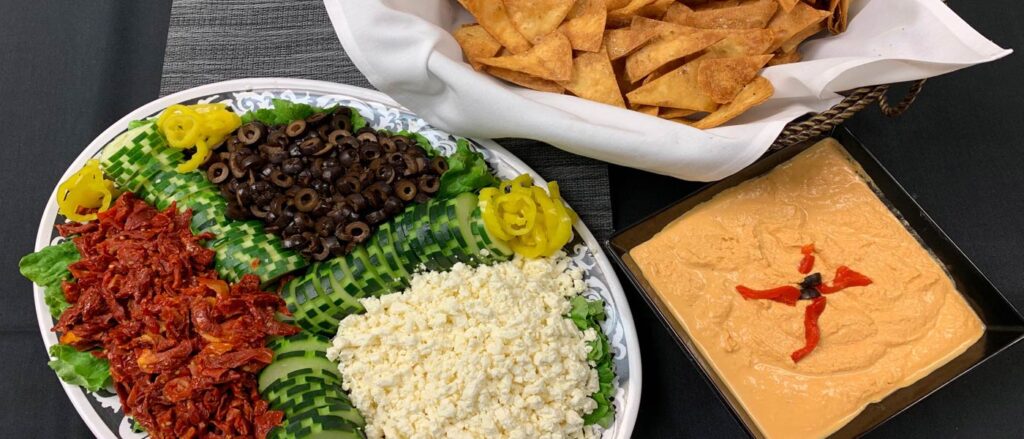 Traditional hummus dip served with house made pita chips and toppings of feta, cucumber wheels, diced olives and sundried tomatoes.
4.00 (minimum of 20 people)
Bruschetta Crostini Trio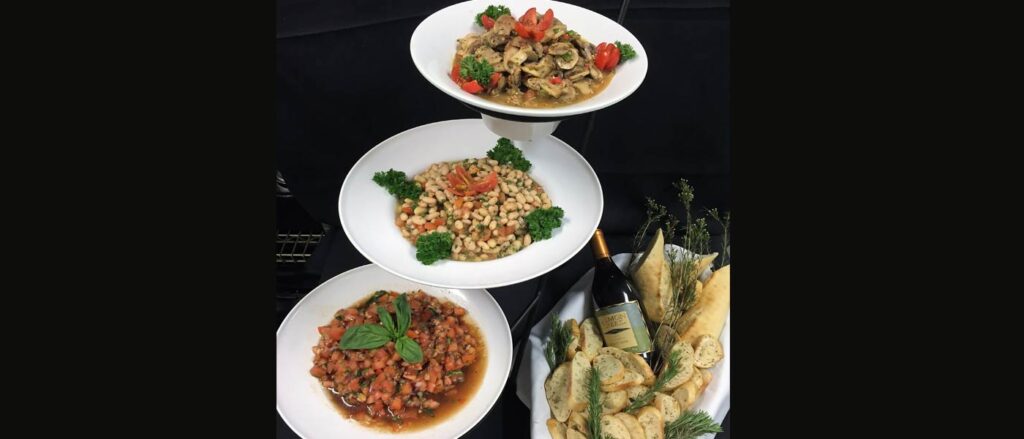 White bean and pesto, forest mushroom, traditional tomato basil and balsamico.
4.00 (minimum of 30 people)
Pulled Braised Short Ribs
Pulled short rib, yellow corn grits and pickled onion on a miso spoon.
50 pieces 112.50 / 75 pieces 168.50
Antipasto Skewers
Mozzarella cheese, salami, grape tomatoes, grilled zucchini and a Kalamata olive, brushed with Italian dressing.
50 pieces 125.00 / 75 pieces 187.50
Charcuterie Display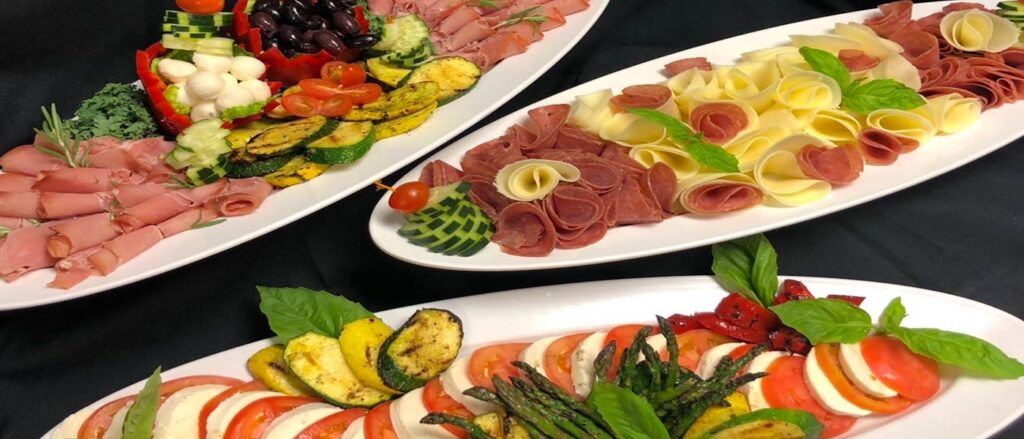 Marinated grilled vegetables, mixed olives, assorted cheeses and fresh mozzarella with salami and smoked ham, brie, pickled onion, mini ghertins, fig preserves & walnuts served with flat breads and crackers.
8.00 (minimum of 40 people)
Grilled Vegetable Stack
With fresh mozzarella, zucchini, mushroom, artichoke and roasted tomato with a balsamic reduction.
50 pieces 112.50 / 75 pieces 168.50
Grilled Zucchini Cups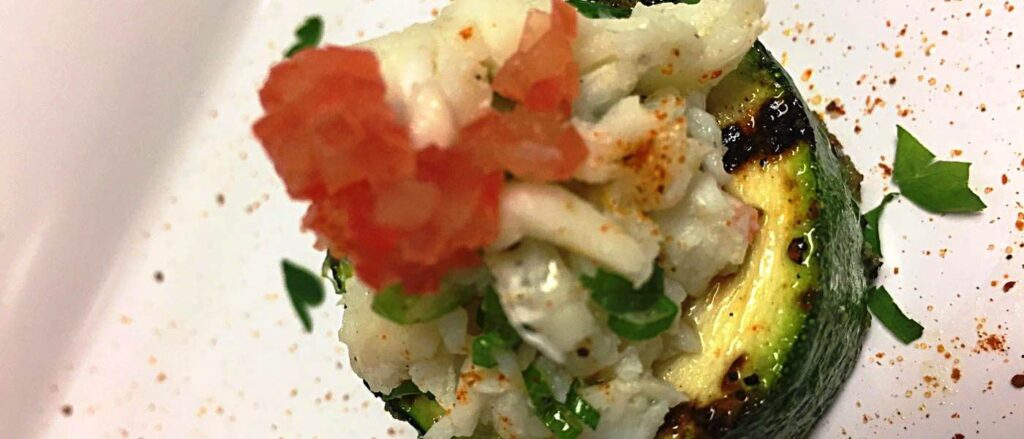 Filled with Pimento cheese, garlic herb cheese and marinated lump crab.
50 pieces 112.50 / 75 pieces 168.50
Mediterranean Tortellini Shooters
Marinated tricolored tortellini's with capers, artichoke, black olives and feta cheese.
50 pieces 112.50 / 75 pieces 168.50
Baby Caprese Kabobs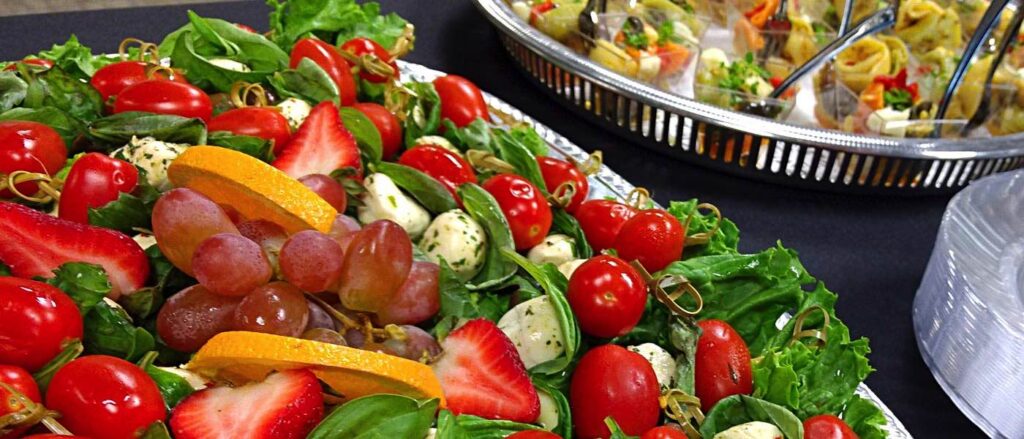 Fresh basil, grape tomatoes and mozzarella arranged on a bamboo skewer.
21.00 a dozen (minimum 3 dozen)
Pork Tenderloin Medallions
Apricot glazed pork tenderloins.
50 pieces 125.00 / 75 pieces 187.50
Prosciutto Ham and Fig Jam Crostinis
Herb toasted baguette with prosciutto and fig jam.
50 pieces 137.50 / 75 pieces 206.00
Pork Belly Stack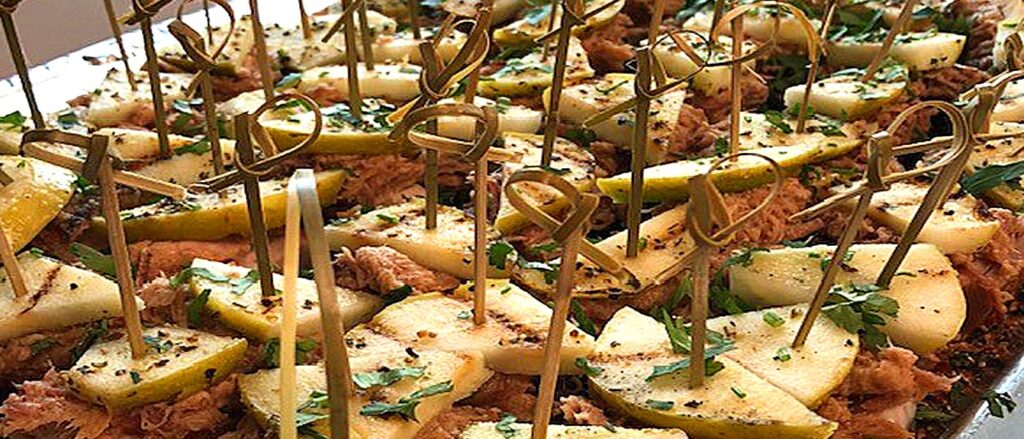 Brown sugar bourbon glazed pork belly with pulled pork and roasted apple.
50 pieces 150.00 / 75 pieces 225.00
Sesame Tuna Poke*
Seared sesame ahi tuna in a cucumber cup with seaweed and a wonton crisp.
50 pieces 150.00 / 75 pieces 225.00
Mini Bahn Mi Sandwich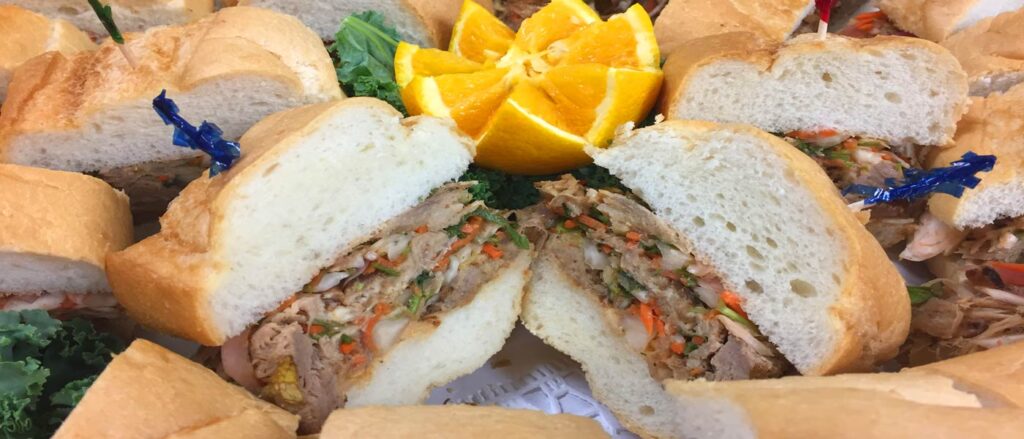 Braised Asian pork, radish slaw.
50 pieces 125.00 / 75 pieces 187.50
Poached Shrimp Kimchee
With pickled red onion and cilantro.
50 pieces 150.00 / 75 pieces 225.00
Citrus Pepper Salmon Wonton*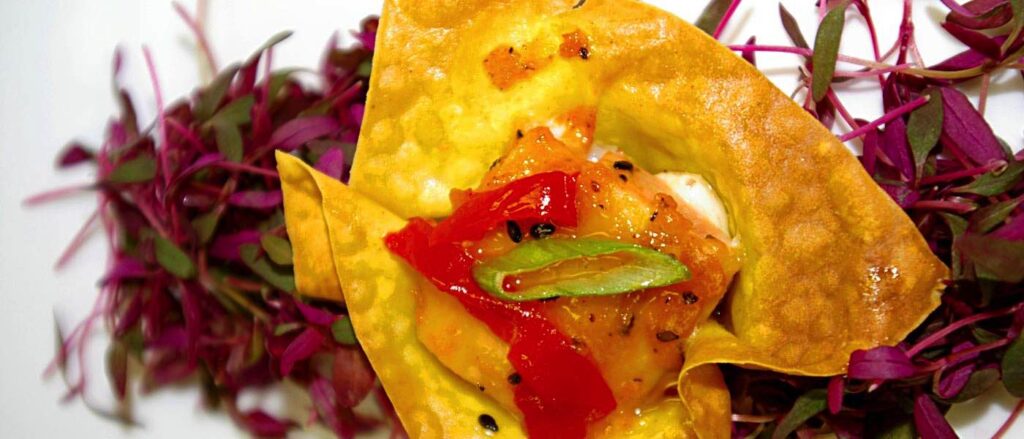 Citrus peppered salmon in a crispy wonton.
50 pieces 125.00 / 75 pieces 187.50
Mini Lobster BLT's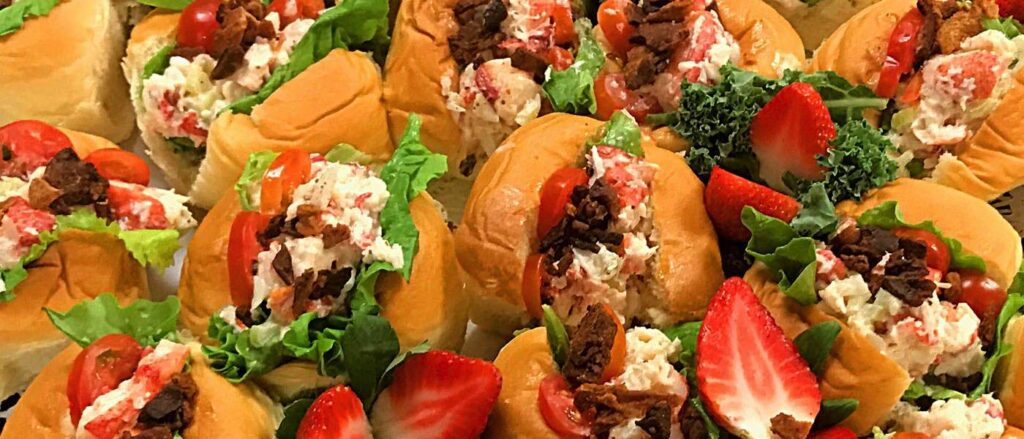 Crisp baguette, heirloom tomato, Benton bacon, lettuce and poached lobster.
50 pieces 200.00 / 75 pieces 300.00
Pan Seared Scallops*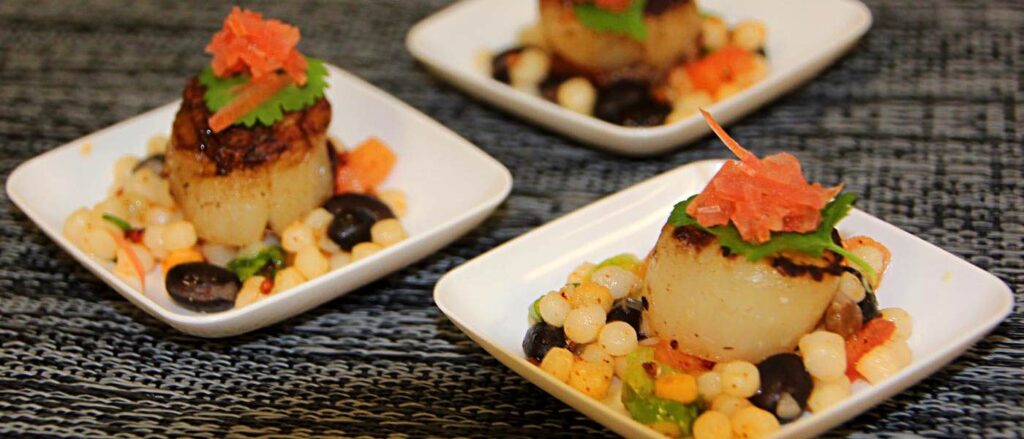 Pan seared scallops over quinoa and black bean salsa.
50 pieces 162.50 / 75 pieces 243.50
Shrimp Tree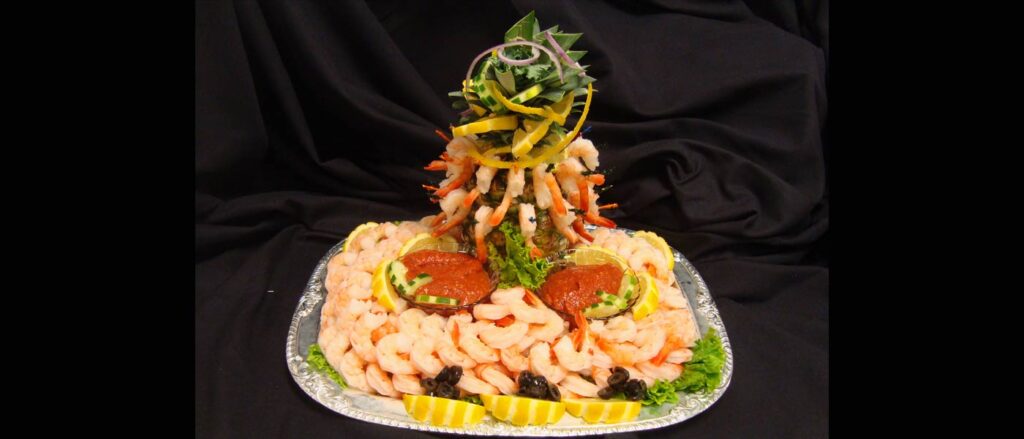 Jumbo, tail-on shrimp around a pineapple, on a bed of greens with lemon wedges and cocktail sauce.
Large platter (2 ½ lb.)
Shrimp Shooters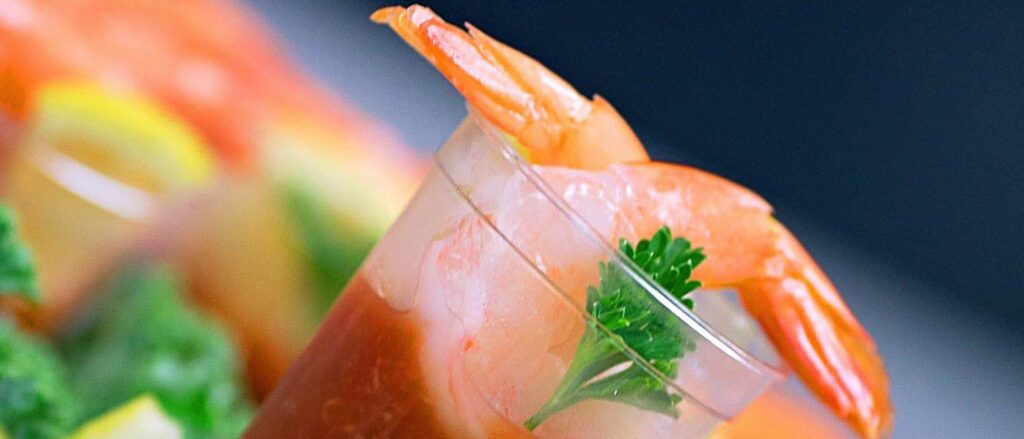 Two jumbo tail-on shrimp with cocktail sauce in a shooter glass.
50 pieces 125.00 / 75 pieces 187.50