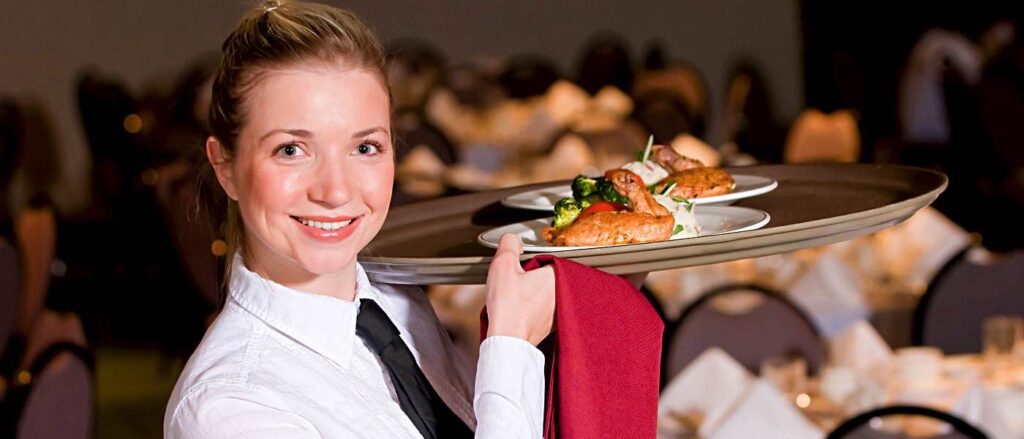 Tables 11.00 each
Tables 4' and 5' round and 8" buffet 11.00 each
Cocktail tables 12.50
Tablecloths (linen) in various sizes and colors 10.00 each
Chairs 2.75 – 3.75 each
Table skirts 1.50 per foot
Glassware .75 per unit
Silverware .75 per unit
China .75 per unit
Napkins .75 per unit
Chafing Dish 30.00 each
Roll Top Chafing Dishes 40.00 each
Punch Bowl (Crystal) 15.00 each (Silver ) 30.00 each
Coffee – Percolator 25.00 each
Silver Coffee – Dispenser 30.00 each
Disposables
Package price for Eating and serving utensils: 1.25 (pp)
Exquisite Clear Plastic Utensils 1.50 (pp)
Disposable Chaffing Dish 10.00 each
Disposable Tablecloth 4.95 each
Tongs, Cake Server or Serving Spoon 1.25 each
Go Green (biodegradable) $1.95 per person
Please inquire about tents, sound systems, flowers, artists, video or photographers etc. Our event planers will be glad to help you.
Basic Service Fees
Bartender & Servers 30.00 per hour (minimum 4 hours plus travel time, please)
Please note: Our personnel are the only authorized people to act as bartender and/or server.
Delivery and Pick up fees:
Depending on location, not on quantity, unless major buffet presentation is involved.
Fees range from $15.00 to $50.00
We do not charge percentage based service fees or gratuities during regular business hours, 7:30 am until 5:00 pm Monday – Friday. (A 15% fee will be added to your invoice for after hour events and weekends). Gratuities for our bartender/servers can be added to your bill or paid directly if you like.
A 4% fee is applied for credit card charges.