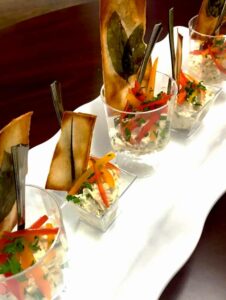 There are things that never go out of style like amazing food, full of flavor. At Chef's Catering we are growing! We want to keep up with today's media world without letting go of our classic flavors. With the holidays around the corner and all the weddings coming together for next year, we are super excited about our new website.
People usually say "Look Around" but I will say "Click Around". Become familiar with our menus. Print them out for quick reference to have at your job or home. We are excited to be able to cater to Charlotte and all the surrounding areas.
We want a relationship with you. If you have a favorite venue, let us know and we will be sure to contact them to make it easier for you to plan your next meeting or event. You can have our amazing food at your favorite place. Just one more way to add happiness to your life!
We have our event planners at the ready to create your dream wedding or make that amazing first impression on that prospect you are trying to sign. You can find us on Facebook now and we've even started our very own Pinterest Page for all you party planning needs. https://www.pinterest.com/catering1173/