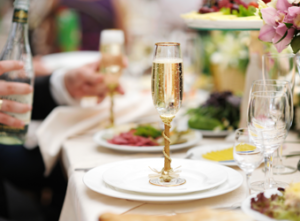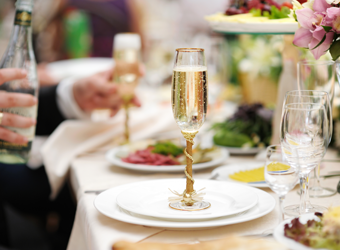 Most of our lives are filled with the day in and day out routine of a set schedule. Then, amazingly, love happens and there is a date set for the biggest celebration you've ever been responsible for planning. I get calls from brides all the time and sometimes their mother and every so often, a groom wanting to create a magical event that will wow their friends and family. By the time they call the caterer though, the sparkle of their excitement is a little less shiny due to the fact that what started out as a fantastic magical wonderland scene in their head, now has a budget attached to it. It takes a lot of awe and wonder to keep the magic while keeping the budget in tact.
My advice is to know what you want and ask advice on how to get it. Chef's Catering wants your day to be special.
Here is a review that I received from The Knot.
Chefs Catering was a complete lifesaver for my wedding! Six weeks before our day my original caterer fell through and we were in a panic. I emailed Chefs Catering and had a response within a few hours, on a Sunday I might add! Then had a full menu and quote within just a few days. I booked them immediately. Lea, the Director of Wedding and Events was the biggest help and supporter through out our whole process. She went above and beyond to make sure that I was happy with the new company and assured me that everything would go smoothly on our big day, considering I wouldn't be able to taste or meet the team before hand. And it did! My guests raved about the food and the staff was amazing! They catered to my husband and I, making sure we got some food before the socializing began and were so attentive to all our guests. They were on time for set up, and made clean up happen so easily. I also ended up renting my plates, glassware and silverware from them to ease the set up and clean up process which made a big difference. I planned my South Carolina wedding from Seattle, and Chefs Catering was the best choice for me, I wish I had found them sooner, but we are so happy that we got to work with them! Thank you Chefs Catering!
Every company dreams of those kinds of reviews. Chef's Catering wants to deliver the flavor and fuel the love every time. Love on a plate. That is the goal!