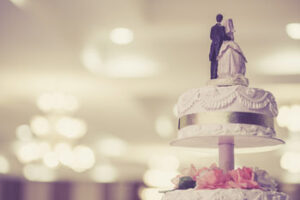 I have said it before and I will say it again. A wedding is a big deal with a lot of emotion tied into it. It can overwhelming to plan. After all, it's not every day that one plans a wedding for 100 to 300 of your closest friends.
As Director of Weddings and Events at Chef's Catering, I receive inquiries all the time. More often than not, there is an email address, with the date of the wedding and that is all the information I have to go on. This is fine. I really love making Catering Proposals but I get super excited when I can actually speak with my couples. Please, leave a phone number and let's talk! I love getting the vision and creating a menu completely tailored to the family.
If you want a general answer on pricing, here it is. To give our couples a lovely couple an very nice reception with deliscious food and drinks, chaffing dishes and buffet linens, you should really expect at the very least, $25 per guest. If a caterer says they can do it for less than this and price is an issue, be ready to ask some straight-forward questions like:
Does that include Service Charge?
Is there an Event Fee?
Does that include Delivery?
Are chafers included in this price or will that be extra?
How much are servers?
Did you include them in the price?
I think it's important to send a Wedding Catering Proposal that includes everything in the estimate. I will share with you, that this prevents some brides from signing because I do this. I'm not some slick city girl that has the art of the sale down to a science. If you tell me a budget, I try my best to be respectful of it because I really care.
This is your wedding. This is the happiest moment of your life thus far. Why would anyone want to try to create stress by not telling you, every detail.
With that being said, $25 per person is just the starting point. It will be a simple and elegant affair. But if you want three passed hors d'oeuvres, if you have Steak and lobster with a crepe station and an ice cream station for dessert all served on the finest china on your vision board, then of course your wedding can cost as much as you want it to. I've planned catering menus that come in much higher and they are truly a grand affair. They are incredibly fun to plan. Your menu needs to fit you. A meal with your friends and family should be relaxed, social and delicious.
As a planner, I will tell you this. Know what you want and know your budget. It's difficult to feel the joy of the occasion when you are stressed about the money.
Chef's Catering Wedding Collections include amazing menu choices, china and servers or you can choose ala carte. Our menu is created to wow you with flavor and there are endless options to choose from. I can custom create your first meal as a married couple to be one you will never forget.
Remember, it's the love that will create the perfect fairytale wedding.
Any wedding can be royal with the King and Queen are in love.