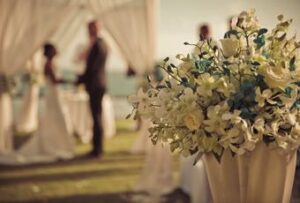 As we head into the Fourth of July weekend, I have to say that being a Wedding and Events Director, I'm not a big fan of the word independence. I've been happily married for 13 years and think back to the food at my wedding with such joy. Also, the owners of Chef's Catering just celebrated their 40th Wedding Anniversary! They have been in the catering business over 35 of those years! There is a commitment to loving life, love of your partner, hard work and sacrifice when it comes to making anything is this world work!
When planning one of the most special days of our life, I have to say, you don't have to feel alone. You definitely don't have to be independent! There are many industry experts and many articles just waiting to share their wisdom with you. If you head over to Pinterest, you will find pins on "Questions to Ask your Caterer" Checklists of what and when to do everything you need to do when planning your wedding. There are more resources for planning your wedding today than ever before.
Test and Approve everything. Walk through your venues. Taste your reception menu prior to choosing it. I'm always a little amazed when families hire a caterer based on lowest price without ever comparing the food. Tastings are relatively inexpensive and such a memorable experience. In the world of Facebook, Twitter and Instagram, there is nothing more popular than photos of food! I love when a couple comes in for a tasting because there is always that excited but uncomfortable feeling of trying something new. It's interesting to see the dynamic between the couples and how they communicate and since the food is all I have to offer, there is always that moment of hoping that it is the best meal they've ever had!
I got really excited last week because I had a groom come into a tasting with the "Whatever my bride wants" attitude. The bride got to choose the menu completely and he was just there to support her which is very sweet. But the moment he cut into his sirloin, his eyes closed and he made my favorite sound of expression of unexpected delight over just how amazing the food in his mouth was. No longer was it just about his bride. He was truly pleased that this was going to be served at his wedding.
I live for moments like these. You should too. Use this time of planning your wedding to truly enjoy the luxuries of life. Good food, fancy clothes, an abundance of attention focused on your happiness. Celebrate your life-long partnership on this Independence day. When you watch the firework, know in your heart that the celebration is just for the two of you. Kiss! Laugh! Love! Dance! Eat good food! Live rich! Life to the full. Don't settle for the trends. Craft our wedding reception to be an expression of your love! Make it personal.
Celebrate Love. Celebrate Everyday!