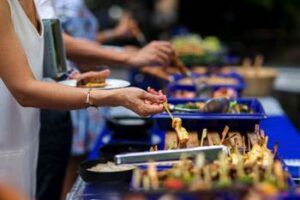 "Save The Date" is one of those phrases that can definitely grab your attention. In today's world of marketing catch phrases and ploys to get you to open that email or read that blog or go to that sale, "Save The Date" never fails to make me stop and give a look.
When planning your wedding, "Save the Date" is more than just a marketing ploy, it is an absolute necessity. If you wait too long to solidify your choice, you just may not get the venue you want, the band that you want, the photographer you want and the food that you want on your special day.
Chef's Catering prides itself on being able to make every bride feel as if she is the only one getting married on her special day. Our servers make sure she and her handsome groom get their plates served directly to them so they can focus on family and friends and simply enjoy the day.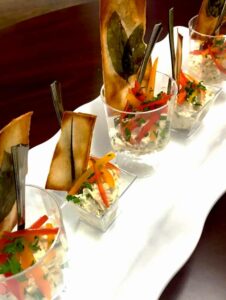 Creating a moment is what it is all about and our professional staff is able to present the food in an elegant way so it is love at first sight and love at first bite!
You will find one of the most extensive menus in the area with countless options of hors d'oeuvres, entrees and accompaniments. If you are overwhelmed by the variety, our event specialist will help you create a menu that will assure that everyone leaves happy.
During this time of year, there are Showers, Graduations and of course, WEDDINGS! Love is continually in the air at Chef's Catering where everything is seasoned to perfection because we are "Seasoned" Professionals!