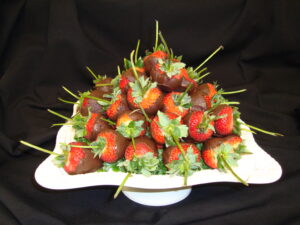 There's a familiar saying which is called the Golden Rule. Do you know it? It says, "Do unto others as you would have them do unto you." We are right in the middle of gift giving season. With Thanksgiving around the corner and Christmas close at hand, the need for that perfect gift idea is tapping you on the shoulder with every event you are invited to. With the Golden Rule in mind, I ask you this. Would you rather have another candle with glitter on it or a platter of assorted desserts to share and enjoy in the moment? Would you rather welcome a guest to dinner who carries in the latest Bath and Bodyworks shower gel or a platter of freshly made Crab Cakes with two sauces from Chef's Catering.
I will boast that the amazing platters from Chef's Catering are never re-gifted. They instantly bring the wow factor to the event.
I mean who isn't going to love our Assorted Gourmet Brownie Tray. It's a chocolate lover's dream including: deep dutch, tiger triple, chocolate chunk, coconut laced chocolate, white and dark chocolate swirled brownies.
Since you happen to be on our website anyway, click on over to our downloadable menus. They are filled with the most amazing ideas. You can easily make your list and check it twice then check each name off with a platter of sweet dessert bites or assorted homemade cookies! Want to really impress?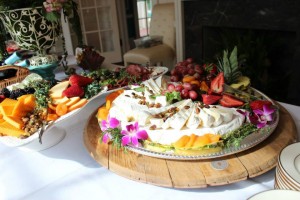 Have one of our beautiful fruit and cheese platters sent ahead of you as an over-the-top hostess gift for the party you've been invited to.
Simply, pick up the phone and give us a call. We will take your order and deliver it and you take all the credit. Just call Chef's Catering one of "Santa's Helpers".
After all, It's the Most Wonderful Time of the Year!