It's exciting to me when I get a last minute call asking me to whip a menu together because the husband is having clients over. It's even more fun to bring a "wow" factor without looking like we're trying to bring the "wow" factor.
Entertaining should be exactly that, ENTERTAINING! The menu planning should be fun. The dinner decor should be suited to the event. I don't care what the weather says, Spring is here and Summer entertaining is just around the corner.
Skillet Seared Chicken Breast Served with Jonah Crab with Haricot Verte Satchi –Green Bean Bouquet is just one of our amazing entree choices off of the Chef's Catering Platinum collection. The host sweetly relayed to me that the whole night could not have gone more smoothly and that the food was delicious!
As a planner who truly cares about her clients and their families, I love hearing this and truly love when they send me photos. Catering is an amazing industry that bridges the gap and connects business with social. Amazing food is the language that speaks volumes whether you are trying to gain a client or celebrate family or start the first day of the rest of you life with the one you love.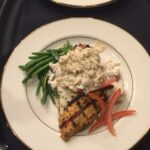 There is always an occasion to celebrate. Allow Chef's Catering to be your "go-to" caterer for any size event in your future. If you are just starting your planning and feel stuck, call me. It is my goal to bring and ease and refinement to events that will allow you the luxury of focusing on your relationships and the joy of the day rather than worrying about the details. That's MY job and for you, I will put my whole heart into it!