Chef's Catering was honored to be invited to Belk's Bridal Registry Spotlight. All registered brides were invited and we set up in their bridal department where everyone was so amazed by our display. I, myself, had a really fun day and was feeling really proud of our food. Chef's Catering is a family business that feeds all of the Charlotte Area and everyone works together showing amazing pride in their work.
Our Fruit & Cheese Centerpiece is really stunning and I had a bride named Brie who had never tasted brie! She loved it. Our centerpiece bursts with flavor and is a work of art with oranges, melons, kiwi, strawberries, grapes and blackberries and such a variety of cheese! Our gourmet crackers and house-made pita chips make for a nice balance of every combination you can create on your plate.
I love meeting people. When the focus is marriage and weddings, there are just so many ways a conversation can go. I spoke to a woman who had been happily married for 50 years and she was giving advice to one of our soon-to-be married brides.
Even though we simply brought a variety of hors d'oeuvres and dessert bites, it was like a full meal in the sense that every food group was covered. Bruschetta Crostinis Trio is a favorite for our health-conscience crowd and yet it is so flavorful that it feels like a treat. Our Smoked Salmon Canapé wowed the crowd with Premium Atlantic smoked salmon, with horseradish cream, miniature cucumber slices, capers, caviar and shaved egg served in a savory pastry bite. There are many things that make me proud to work for Chef's Catering. In this day and age of marketing, and making everything searchable online, what one really needs to be concerned with is the quality of the food. Chef's Catering uses healthy, fresh ingredients and creates these edible works of art. I applaud all who work in our kitchen. I applaud the owners for having a standard of quality and an eye for style.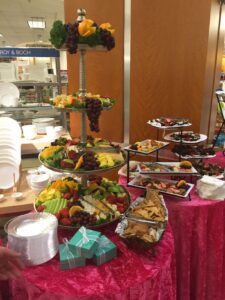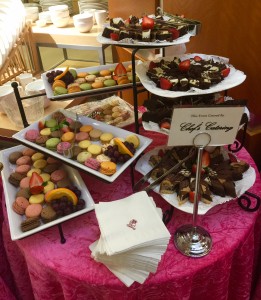 There are many weddings that are going down a more casual path and our Southern Food is amazing and bursting with flavor but I believe there are just moments in life when it is time to go for the absolute best. Couples deserve a once in a lifetime opportunity to celebrate their love in style. This is when Chef's Catering gets the call.
Please, let me be a part of your special day. As you are planning your reception, go over to our Wedding Collections. They are elegance that can easily be one the favorite memories of your special day. Just this week I received a Vimeo video from a special bride we catered for nearly five months ago. She had this to say, "We think of you often and how wonderful you all were in our whole wedding experience. "
Chef's Catering wants to be a part of your experience. Call us today. 704-412-4147.