The purpose of having a blog is to share ideas! They are an excellent tool in today's world because they are entertaining and informative. They are current and creative. People love to cyber-surf each new wave and trend. It doesn't matter if it is "Do-It-Yourself" or "What Can We Do For You?".
Super Bowl 50 is obviously huge this month, especially in North Carolina which is where Chef's Catering is located. Everyone is planning a Super Bowl Sunday party and we are running Specials! I am throwing out ideas to everyone I talk to and I thought I would write them down and share them!
Now, you might not have seats on the 50 yard line but I'm sure you'll have the best seat in the house and by this I mean, a comfy couch and a widescreen television. No long lines or hotel expenses for you. Grab a beer and let's get to menu planning!
I happen to love the Super Bowl even though it is usually the only football game I watch all year. I'm a party planner! I love any reason to organize a gathering. There are weekends that I plan a theme party for no reason other than love for my family of four and I encourage everyone to do the same.
Anyway, back to football. Wings and beer as pictured above, is always an excellent way to start. Think outside the box and into the crock-pot. There are some excellent wing recipes that can be done with a minimal effort and an abundance of flavor. These are sure to please both the guys and the gals at your party.
Something simple but with a touch of fancy is a fruit and cheese platter. It's the perfect combination of salty with sweet and even some heat if you like that kind of thing. There are simple combinations that work perfectly together. If you feel over your head with this one, there are all sorts of guidelines that will have you looking like a pro with minimal effort.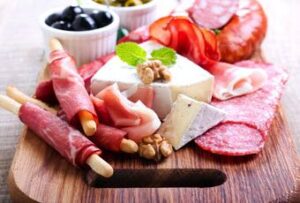 If you're not into the whole "make-it-yourself" idea, here's a link to make your life easier. I am a woman in love with the Bruschetta Crostinis Trio which is three appetizers for the price of one! White bean and pesto, forest mushroom, traditional tomato basil and balsamico.
As we say at Chef's Catering, your life can be filled with "More Flavor. More Style. More Value".