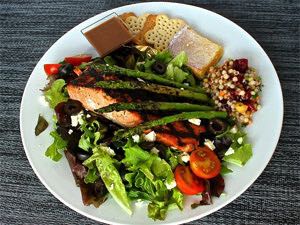 Work hard, play hard, stay fit! As the New Year, 2016 approaches, the resolutions for 2016 will start to be scribbled down on notebooks and new idea boards will be made and pinned on Pinterest. Let's face it, nobody likes to deny themselves but everyone wants to look good and feel good. I have a solution! With the healthy eating trends of Paleo and Clean Eating being boasted everywhere, one of the biggest complaints I hear is that it takes so much time. Your time is worth money and your health is worth EVERYTHING!
For Business Catering, let me just spotlight a few healthy choices from Chef's Catering that you can have delivered straight to your office, giving you that extra time to hit the gym prior to work.
Our amazing Tuscan Grilled Salmon Salad is pictured above. It's more than enough to fuel your day. It comes with mixed field greens with grilled to perfection salmon, grape tomatoes, feta, grilled asparagus, homemade balsamic vinaigrette served with a side of quinoa salad and because everyone deserves a treat, each of these come with a gourmet dessert.
Our Apple Tuna & Chicken Salad Medley is rich in proteins and served on a bed of lettuce. The tuna is prepared with chipotle lime aioli and personally I could devour it plain but it comes along with Flat bread crackers, grape tomatoes, egg slices and served with quinoa salad.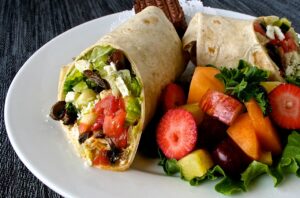 Our Grilled Vegetable Wrap is filled with grilled zucchini, squash, colored bell peppers, marinated mushrooms, lettuce, tomato, feta and hummus in a spinach wrap served with our fresh fruit salad. Check out all of our delicious box lunches by clicking the link below.
We serve all of Charlotte, NC and the surrounding areas. You have the power to choose healthy choices.
We are here to serve them to you!