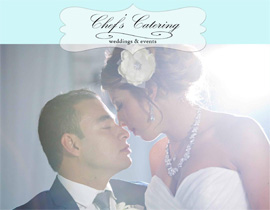 Chef's Catering has been in business for 35 years. Our ability to bring elegance and a sense of peace to any occasion comes from years of experience. Let me not forget to mention that our food is delicious! We bring an ease and refinement to events that allow the couple and their families the luxury of focusing on the relationship and joy of the day, rather than worrying about the details.
As a wedding planner, Chef's Catering realizes that your world is all about serving others. We want you to feel appreciated for all the time and energy you devote to your couples in love. At the end of the day, you deserve the special treatment you give to others on a daily basis.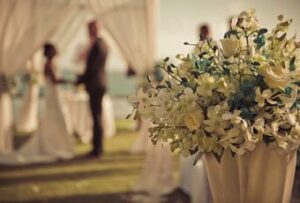 Everyone is different though. That is why we believe you should be able to choose what type of luxury would truly encourage you. We have a list of incentives for you. Every couple whom you refer to Chef's Catering who books their event with us brings you a few gifts as well.
You will get a special write up on our website blog. You can take a look at https://chefscatering.com/blog-more/blog/ which you can Tweet, Pin and Share to your heart's desire, announcing to all your future clients that you are the one to choose. That is not all though because even though free marketing is nice, it's also nice to get gifts. You can choose from the following:
Visa Gift Card
A new headshot for you by Storyboard Dreams Photography. You can post on your website, Facebook or use for LinkedIn.
Gift Certificates for area restaurants, including wineries and breweries.
Spa Treatments
Cash Referral Fee
Chef's Catering will be adding to our list of incentives in the near future. We just wanted to introduce ourselves to you and let you know how much we appreciate the work you do!
Warmly,
Lea Oglesby
Director Of Weddings & Events
Contact me at:
l.oglesby@www.chefscatering.com