On Sale Today! Buy Now! Daily Specials! Bargains, Bargains, Bargains!
These are all phrases that catch our attention. There are things we buy because we need them and there are things we have bought because they were on sale! There are times we shop just to improve our mood. But let me ask you this. When you bring that bargain home and it doesn't quite satisfy you, do you have buyer's remorse?
In this day of watching every penny, it is important to realize what's important.
Chef's Catering does both Corporate Catering and Wedding & Special Events Catering. We are in the Charlotte, NC area and there is a lot of competition. There are many ways to attract new costumers. There is the marketing aspect of it all. Google Adwords, SEO specialists, Social Media. Then there is the sales team that makes it simple to order because they are calling you like clockwork and it's just easier to order than to look around any longer. There is always the price! This is a big one. If a company can come in a touch lower in price than the competition, it's difficult not to give them a second look.
Then there is what really matters. After the purchase, will you be happy about what you spent your money on? When you order lunch, do you ever just roll your eyes in ecstasy because the Southwestern Chicken Wrap you just bought tasted amazing! I work at Chef's Catering and I have honestly done that. I witness the food being prepared at times and the chef is seriously skilled! The food on our menu is made in-house, seasoned perfectly. It's put together with pride. When you receive a box lunch from Chef's Catering, you can tell it is fresh, not processed.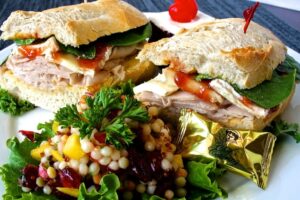 Our food is made with the finest ingredients! Everyone at Chef's Catering takes pride in giving their best efforts to every order. Our food is a step above the norm. It just feels better to eat lettuce that is crisp, tomatoes that are juicy and firm, meat that is freshly seasoned, not processed. Look again at our Menu . The pictures you see on our Boxed Lunch page is truly our food. It has not been edited to look better, it just is better! We deliver the goods and it's GREAT!
Call Chef's Catering today!