Chef's Catering staff can deliver a delicious cold lunch or dessert buffet right to your place of business or meeting. Your guests can choose their meal from the wide variety on the buffets. From gourmet wraps to salads, to desserts, you will be delighted with the wide selection of Chef's Catering cold lunch buffets. If you are within twenty-five miles of Charlotte, NC, we can bring you the lunch buffets of your dreams.
Lunch Buffets and Desserts
Gourmet Wraps and Assorted Sandwich Tray Buffets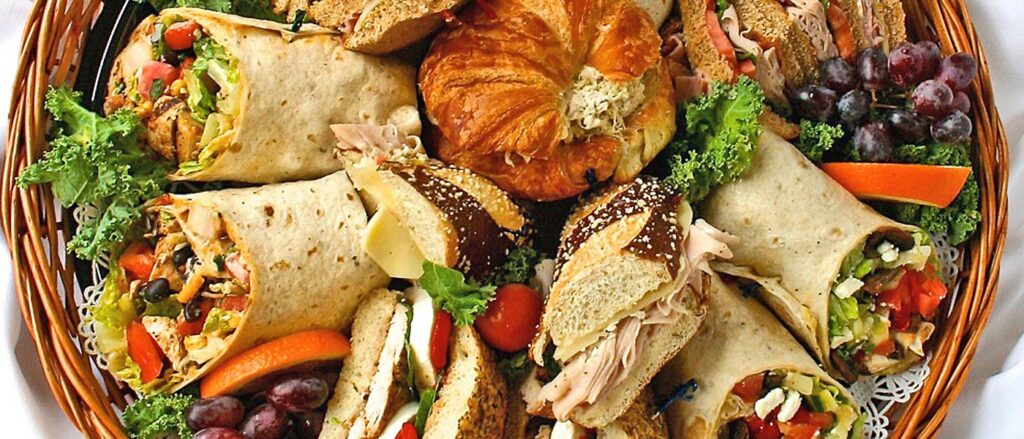 An assortment of traditional and specialty sandwiches on assorted breads, croissants and wraps served with assorted meats, chicken salad, cheeses, lettuce and tomato, includes a vegetarian option.
Sides: Potato Salad, Cole Slaw, Garden Fresh Pasta Salad or Citrus Orzo Salad 3.00
7.95 (minimum 10 people please)
Additional add ons:
Relish Tray:
Pickles, olives, banana peppers, carrots with ranch dip 2.00
Fruit salad 3.00 / Cape cod chips 1.95
Quinoa salad 3.00 / Grilled vegetables 3.00
Chips & Salsa 2.75
Roasted Red Pepper Hummus & Pita Points 3.50
Garden Salad 3.50
Chef's Soup 5.95
Desserts & Snacks
Fruit Jubilee Tray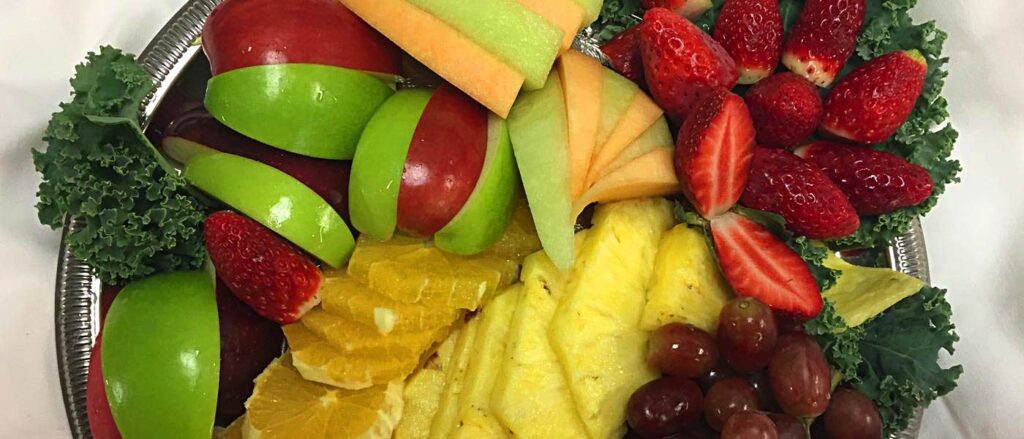 Bite size pieces of seasonal fresh fruits.
Small (8-12) 39.95 / Regular (15-20) 54.95
Chef's Selection of Assorted Pies (per slice)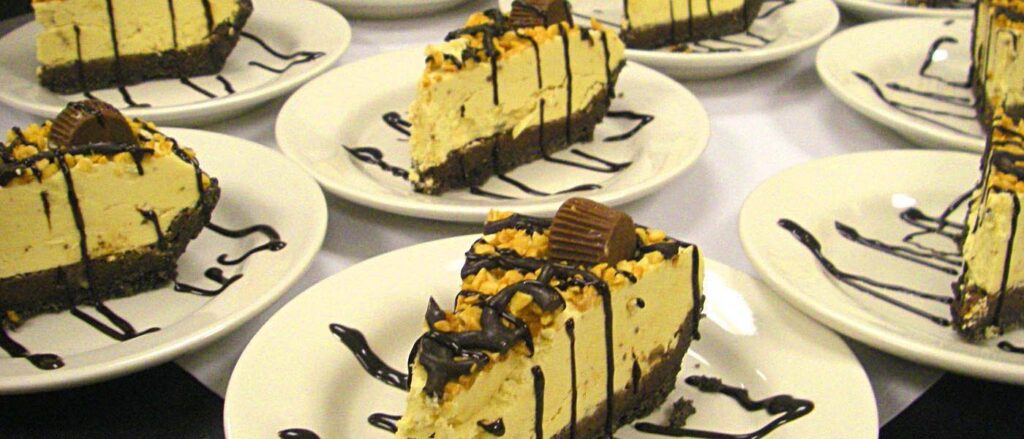 Peanut butter silk, pecan, key lime, pumpkin, German chocolate cake, coconut cream pie, turtle cheesecake, and raspberry cheesecake.
5.25
Assorted Gourmet Brownie Tray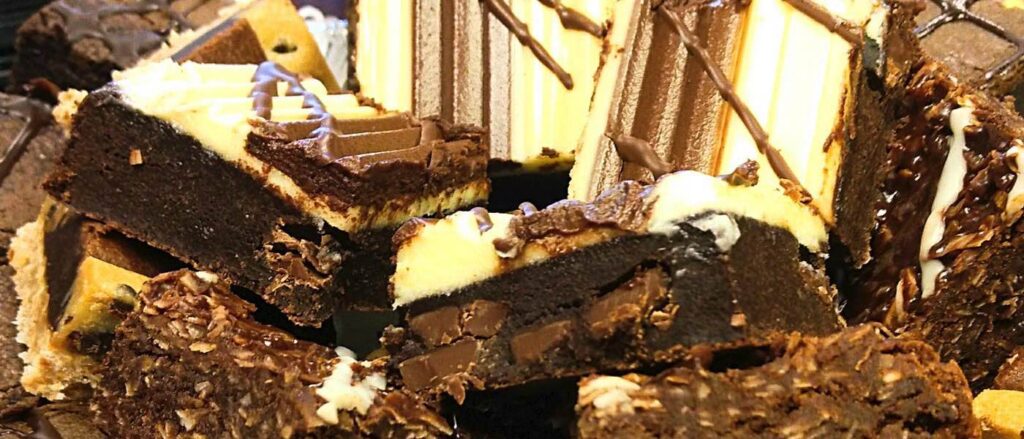 A chocolate lover's dream including deep Dutch, tiger triple, chocolate chunk, coconut laced chocolate, white and dark chocolate swirled brownies.
29.95 per dozen
Gluten free brownies 3.00 each
Lunch Bar Buffets & Favorites
Prices are based on a minimum of 15 people.
Smaller groups can be accommodated for 2.50 more.
Assorted Cookies or Brownies 2.50
Assorted Dessert Bites 2.65
Iced Tea or Lemonade 11.95
Standard Catering 2.50
Upscale Standard Catering 3.50
Disposable Utensils 1.50
Colossal Salad Bar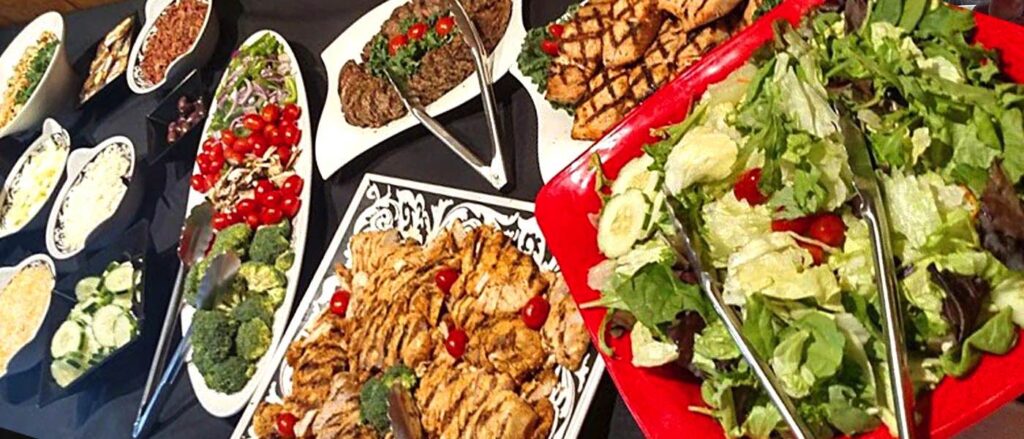 A complete set-up including: mixed field greens, mushrooms, broccoli, cheddar, feta, peppers, sunflower seeds, cucumbers, bacon, egg, olives, edamame, tomatoes, garden fresh pasta salad, croutons, crackers, assorted dressings and a mountain of marinated grilled chicken strips.
11.50
Add a Chef's inspired soup for 5.95
Fajita Bar*
Grilled chicken strips or angus beef strips served with flour tortillas, sautéed bell peppers and onions, rice and black beans, sour cream, diced tomatoes, shredded lettuce, tortilla chips, salsa and cheddar.
13.50
Chicken and Beef for 4.00 extra
Add a fiesta garden salad for 3.50
Add guacamole for 2.75 (minimum 10)
Add queso for 2.75 (minimum 20)
Greek Pita Bar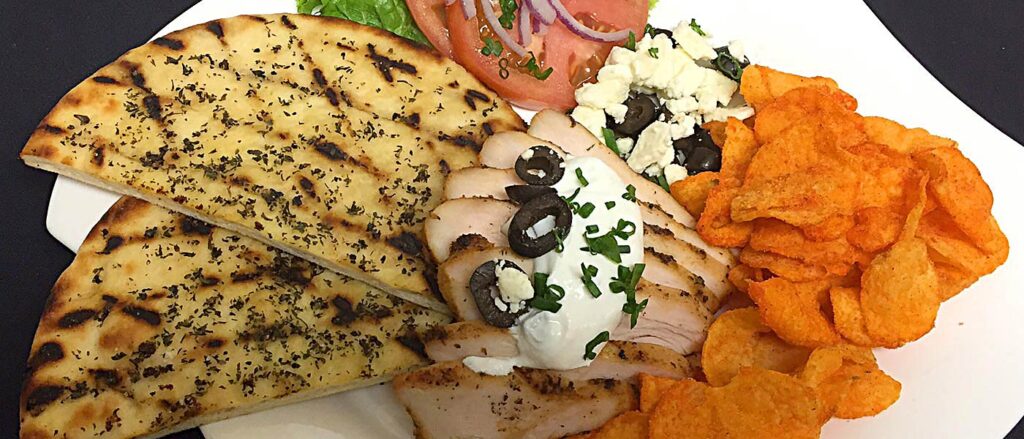 Grilled chicken or angus beef, red onions, tomato, lettuce, olives, feta, tzatziki sauce with pita bread and cape cod chips.
11.50
Add a garden or Greek salad for 3.50
Chicken and beef for 4.00 extra
Add hummus and pita points for 3.50
Maverick ½lb. Angus Burger Bar*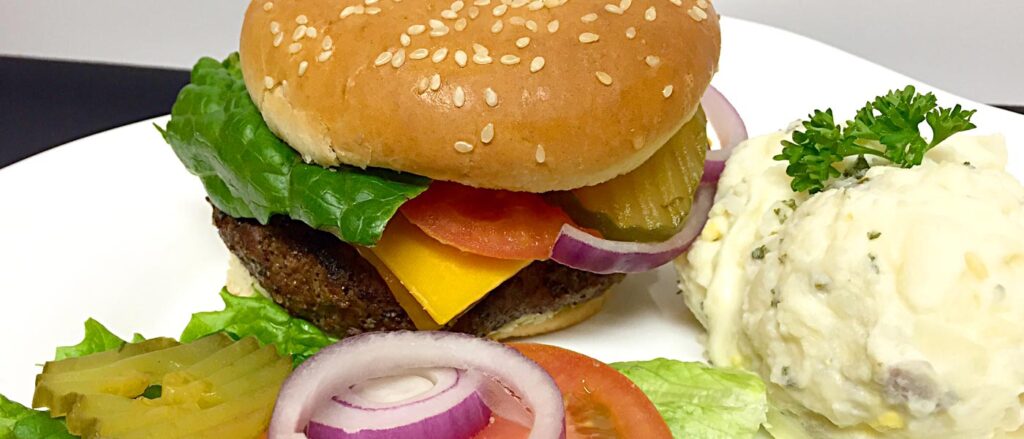 Hand pressed 8 oz. burgers served with an assortment of buns, baked beans, your choice of potato salad, slaw or chips, with cheddar, swiss, lettuce, tomato, onions, pickles, mustard, mayonnaise and ketchup.
12.50 (may be substituted with veggie or turkey burgers)
Substitute 4oz "Beyond Meat" Burger V/GF for 1.00
Add jumbo hot dogs for 4.95
Add grilled chicken for 6.95
Add sautéed mushrooms for 0.95
Add applewood bacon (2) for 2.50
Add chili for 1.95
Pasta Bar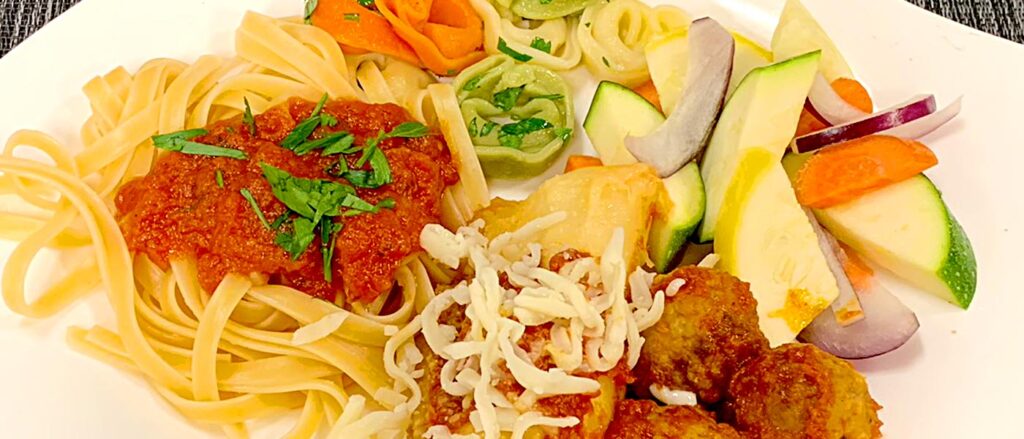 Fettuccini and rainbow tortellini served with marinara, meat sauce, meatballs, manicotti, vegetables, parmesan cheese and garlic bread.
13.95
Add a garden salad for 3.50
Add meat or vegetable lasagna for 6.95 (minimum of 8)
Add pesto chicken for 7.95 (minimum of 10)
Add chicken Parmesan for 7.95 (minimum of 10)
Add Alfredo or carbonara sauce for 1.95 (minimum of 10)
If you would like to substitute any of the sauces for alfredo or carbonara sauce, please let us know.
Philly Cheese Steak Bar*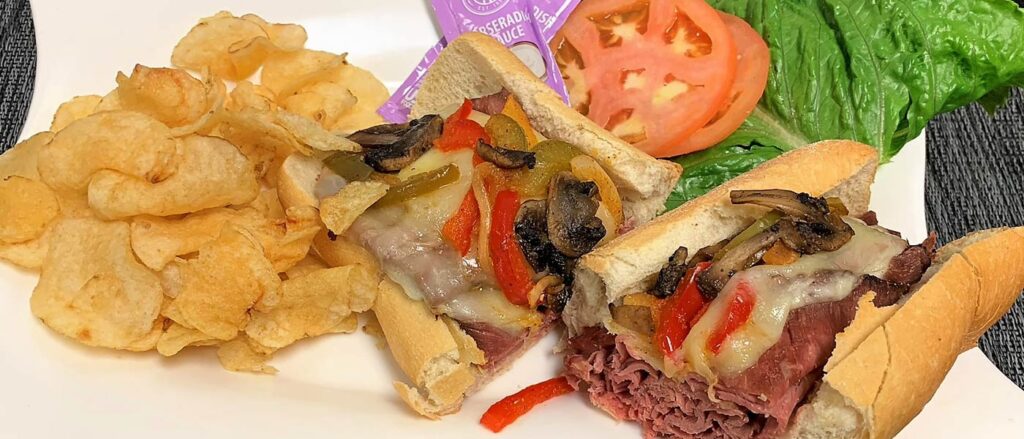 Chicken or angus beef, sautéed peppers, onions, mushrooms, shredded lettuce, tomatoes, provolone, mayonnaise and horseradish sauce, Italian hoagie rolls and Cape Cod chips.
11.95
Chicken and beef for 4.00 extra
Add a garden salad for 3.50